Where to Stay in Nieu Bethesda
Accommodation in Nieu Bethesda is both comfortable and quirky. From a converted water tower to typical Karoo houses, our guesthouses offer you all you need to make a memorable home from home. All of these are self-catering, but meals are readily available from a variety of venues in the village. The choice of accommodation varies from farmhouse to backpackers; spacious to intimate. Please remember that Nieu Bethesda has no petrol or ATM facilities, so come prepared.
The Ibis Lounge
At The Ibis we invite you to enjoy Pure Karoo Luxury. Enjoy the bed and breakfast accommodation with a choice of The Karoo Room, Amore Room or The Happy Room. All our rooms have essential amenities to make your stay that much more comfortable.
Each features an en-suite bathroom, toiletries, DSTV, uncapped Wi-Fi ,electric blankets, heater, fan, mini fridge and coffee making facilities.
Relax in the beautiful private rose garden with swimming pool and fire-pit.
Contact: Barbara 072 110 6254 or info@theibis.co.za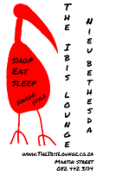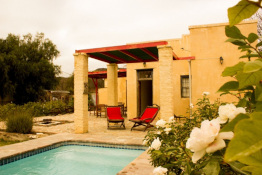 Aandstêr Guest House
Bright & cheerful old Karoo house in a Zen-inspired walled garden.
2 bedrooms and a garden room sleep up to 10 people. Open plan kitchen, dining and lounge area. Single bathroom with shower, bath and toilet.
Call to Katrin on 049 8411 642 or 072 7427113 or email accommodation@nieu-bethesda.com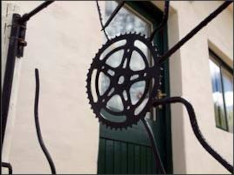 Allemann se Huisie
Self-contained garden cottage with twin beds, kitchenette, shower and toilet.
Call to Katrin on 049 8411 642 or 072 7427113 or email accommodation@nieu-bethesda.com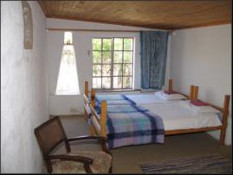 And The Cow Jumped Over The Moon
Self catering establishment consisting of two fully equipped cottages. Each unit sleeps 4 people with lounge, open plan kitchen & bedroom with bathroom en-suite. On the premises is a swimming pool,braai facilities,and coffee shop.
049 8411 633 / 0824509649 / caspervanderhulst@gmail.com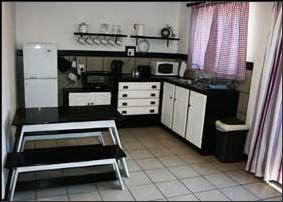 Leonie's B&B
Comfortable en-suite rooms, each with separate entrance from stoep, best views in town, centrally situated.
www.nieubethesdaaccommodation.co.za
nieubethesda@mweb.co.za / 072 349 1394
Elke's Guest House
Sunshine pours into this modern self-catering house with great views of the Compassberg.
2 bedrooms (1 en-suite), open plan kitchen, dining and lounge area. Sleeps up to 6 people.
Call to Katrin on 049 8411 642 or 072 7427113 or email accommodation@nieu-bethesda.com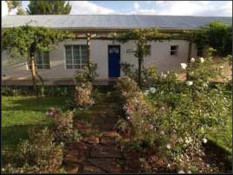 Rustpunt Guest House
3*** Highly recommended luxury self catering cottage situated at one of the best spots in Nieu Bethesda overlooking beautiful mountain views. Tranquil and peacefull. Sleeps 2. 1 Double-ensuite bedroom in the main house sleeps 2. Just 2 minutes walk from the Owl House.
049 8411 667 / 072 635 8531 / amschep@gmail.com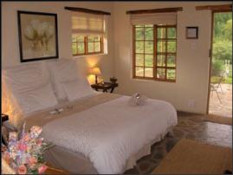 Owlhouse Backpackers
Dorm beds, doubles, singles and camping in this bright, clean home from home in the heart of Nieu Bethesda. On the main street, 5 minutes walk from the Owl House.
Call Katrin on 049 8411 642 or 072 742 7113 or backpackers@owlhouse.info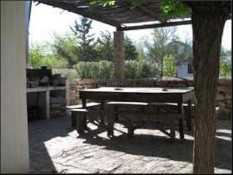 Outsiders B&B
Double rooms, each with private entrance and stoep, on the main street.
Tea and coffee facilities, double bed, en-suite shower and toilet
Call to Katrin on 049 8411 642 or 072 7427113 or email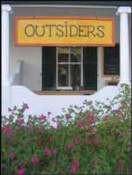 Starry Nights Guesthouse
Modern open plan units – self catering, sleeps 4 each, offers a quiet retreat on the edge of town with garden & stunning views. Luxurious beds, fresh linen, bathroom en-suite, braai-facilities & fully equipped kitchenette.
049 8411 748 / 083 442 7734 / bronwen.langmead82@gmail.com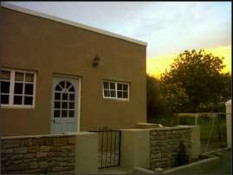 The Water Tower
Quirky double storey with an interesting past. Enjoy the night skies
Double bed and sundeck up narrow steps above kitchenette. Private shower and composting toilet attached.
Not suitable for the aged or infirm
Call to Katrin on 049 8411 642 or 072 7427113 or email accommodation@nieu-bethesda.com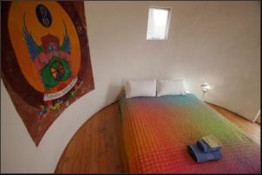 Arts Centre Priory B&B
Charming accommodation where beds are covered by quilts made in the Arts Centre and the on-site restaurant offers excellent meals. Pleasant courtyard with braai facility. Two bedrooms, one with twin beds (sleeps 3) and one with a double bed.
0730 288 887 / info@bethesdatower.co.za
Tower B&B
A Fairy-tale tower three stories high famous for its romantic round bed and twisted staircase.
0730 288 887 /info@bethesdatower.co.za
Meerkat self-catering
The ideal breakaway for two. Luxurious kingsize bed. Romantic, cosy and comfortable with stunning views of Compassberg. Quiet, private enclosed garden with braai facilities and parking. Everything caters for your comfort. Fully equipped kitchenette. Hosts close at hand.
082 323 9579 or 076 838 1742 / tutti@wide-eyed.co.za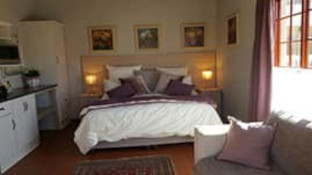 Furrows
Furrows offers 3 x Luxury semi self-catering rooms/suites tucked away in a small private poplar forest with views on Compass Mountain. All suites with king size beds and blockout curtains. Furrows is close to all amenities, walking distance from Owl House and Ramstal Pub, and next to the village water furrow (leiwatervoor)
072 496 0252 / althea@furrows.co.za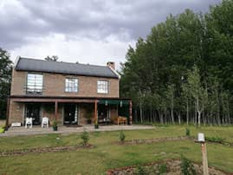 Zonnenstrahl Guesthouse/Caravan Park
Zonnenstrahl guesthouse is situated on the outskirts of the picturesque Nieu-Bethesda.
Can sleep 8 guests, or alternately, Oupa Barend 3 – 6, and Oupa Alph 2
Oupa Barend: 3 bedrooms, full bathroom, separate toilet, lounge/dining area with fireplace and kitchen. Braai patio and garden.
Oupa Alph: Bedroom, en-suite bathroom, lounge with fireplace and braai patio and garden. Only microwave, fridge, kettle, cutlery/crockery.
Zonnenstrahl Caravan Park: 8 sites in a quiet relaxing environment, lush grounds with willow trees. Each site has access to power points, water and braai facilities. The communal ablutions have two separate toilets and two showers.
082 782 0235 / accounts@autostation.co.za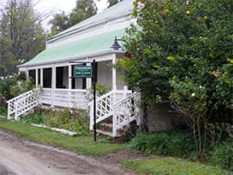 Klein Geluk
Unforgettable, private, historic, beautifully appointed, self catering cottage set in a very large garden with a lapa and bbq, outside seating and a farm dam for swimming. Two bedrooms, one bathroom, fully equipped self catering cottage. Art, magazines, books, fire place, wi-fi and stylish interior design complete this special space.
Pets on request.
082 373 3837 / neil@lemustupington.com