Nieu Bethesda's Artists
Over the years many artists have settled in Nieu Bethesda where they are inspired by the beautiful and magical surroundings. Artists encourage visitors to visit their studios for a chat and look at their work.
Charmaine Haines ~ Ceramic Artist
0498411767 / 0787771966/info@charmainehaines.co.za / www.charmainehaines.co.za
Work available at the Martin & Charmaine Haines Contemporary Ceramics Gallery in Church Street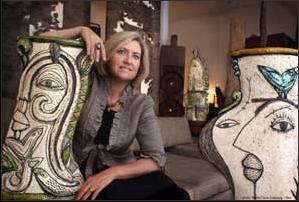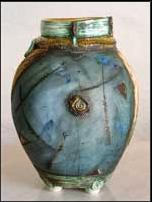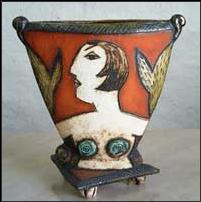 Working within the realm of figurative clay, Haines uses both abstract and stylized symbols and motives to embellish both her sculptural and utility forms. Vessels are thrown and altered to incorporate sculptural and semi-relief elements.
Coloured stains and natural oxide washes are used to enhance the manipulative and expressive quality of the clay surface. She has participated in numerous exhibitions in South Africa and overseas. Recent exhibitions include a solo exhibition at the Associació Ceramistes de Catalunya Gallery. Barcelona. Spain.
Her work has been selected for several Biennales namely, the Internationale Ceramique D'Art Biennale, Vallauris, France, the Johannesburg Biennale and as a finalist for the Nelson Mandela Metropolitan Art Museum Biennial Exhibition in 2006. Her work is represented in numerous public and private collections.
She has recently returned to South Africa after spending three years in France and now lives and works in Nieu Bethesda. In 2010 she was made a Fellow of the Ceramics Southern Africa Association in recognition of her contribution to Ceramics in South Africa.
First People Artists @ the Bethesda Arts Centre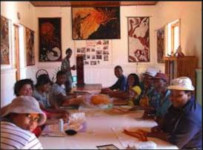 The First People Artists are a collective of fifteen professional artists from the township community in Nieu Bethesda. Trained at, and working full-time from the Arts Centre, they work collaboratively in textiles, printing, and sculpture.
Their work re-imagines the rich mythology of the San people from whom they descend, as well as exploring social issues of contemporary relevance. Their work is sophisticated and bold, and combines a wide variety of printing and textile techniques into their highly original collaborative style.
The First People Artists have exhibited in group and solo exhibitions around South Africa and internationally, including the Iziko National Gallery, Port Elizabeth Museum and the Grahamstown National Arts Festival, and in London's Tricycle Gallery. The group has received several corporate commissions, and two of their large pieces feature in the collection at the Constitutional Court of South Africa.
For more information, please contact info@bethesdafoundation.org
or visit www.bethesdafoundation.org or call 049 8411 731
Martin Haines—Studio Potter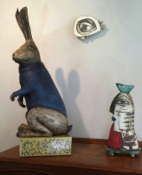 HARE collectables by studio potter Martin Haines – a selection of Objet d'ART ceramic works both sculptural and functional.'peasant pottery' feel.
Work available: Martin & Charmaine Haines Contemporary Ceramics Gallery. Church Street
078 777 1966 / 049 841 1767 / info@charmainehaines.co.za
Frans Boekkooi ~ Sculptor
082 865 2699 / heidikb@mweb.co.za / www.fransboekkooi.co.za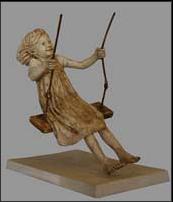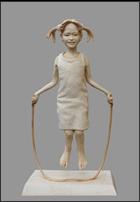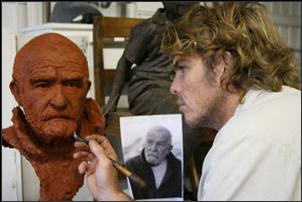 Frans was introduced to sculpture at the age of 14 by sculptor Anton Momberg. He has participated in several group exhibitions in South Africa, and won the EPSAC 2000 Annual Exhibition's prestigious Best on Show award for "Higher Education". In 2001 Frans staged his Debut Solo Exhibition in Port Elizabeth called "Theatre of the Imagination"; a resounding success. His work features in corporate and private collections in SA, the US, UK, Australia, China, Belgium, Holland and New Zealand.
His sculptures are popular with interior designers and he often works on commission for clients where he caters to their specific needs, which includes portraiture sculptures on commission.
You are welcome to visit his interesting studio where some of his works are on display.